the company
In the context of a strong tradition of craftsmanship born MGpro, a young and dynamic, ready to meet every need in the field of transport luggage or Flight Cases.

MG in laboratories, every day, in addition to standard products, we work to testing and implementation of new projects, the analysis of the materials to be used, until you reach the final stage of assembly craftsmanship. It 'just that, what gives added value to our productions.
The big desire to grow, the attention to detail, the positive results obtained in the past, guarantee our FLIGHT CASES unparalleled quality.
Cut the logs to the cutting of profiles; the drilling of materials to final assembly, our commitment to quality.

On your needs, our consulting, our concept of customer focus.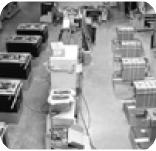 « indietro